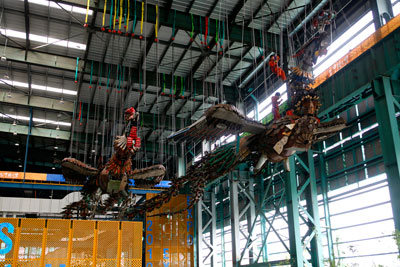 The Phoenix Project, which both directly and metaphorically explores the urban footprint, wealth accumulation and modern life, functions as a multi-dimensional commentary on the Expo's "City" theme. Expo 2010 Shanghai focuses on urban splendor and the results of urbanization, whereas the Phoenix Project focuses on the true substance that underlies these processes. These two Phoenixes are at once fierce and beautiful, and the sense of divinity that each feather emits is a divinity transmitted by each worker with whom the Phoenixes have come into contact.
Xu Bing Aerial Phoenix Exhibited at Bao Steel Stage, Shanghai World Expo Park
The Phoenix was commissioned by the President and CEO of Ravenel Art Group, Ms Clara Kuo, one of the foremost experts in contemporary Asian art. The entire creation process was organized by the Ravenel group, which oversaw the complete project from birth to fruition. The work has been collected by one of the leading collectors of Chinese art, Mr. Barry Lam, an acclaimed entrepreneur.
《凤凰》是世博园中最大的一件艺术品。总长约45米、宽12米、高10米,重12吨。展出于世博园浦东中心区的"宝钢大舞台"此馆是园中最老的厂房遗址,修整的设计保留了旧厂房的痕迹。与园中众多光鲜亮丽的现代场馆形成对比。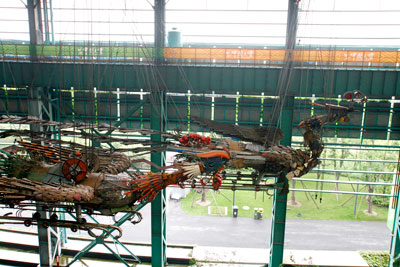 The Phoenix Project is the single largest work of art featured at Expo 2010 Shanghai. The two Phoenixes which comprise this installation measure 27 meters and 28 meters long, respectively, with a total weight of 12 tons; they are assembled from urban construction debris, construction tools and items used in the daily lives of construction workers. The methods used to produce the Phoenix Project present the beauty of a uniquely Chinese creative process. Exhibited here amidst the remains of an old factory building, the Phoenixes create a distinct contrast with the modern glitz and glamour of the surrounding pavilions that form the Expo.