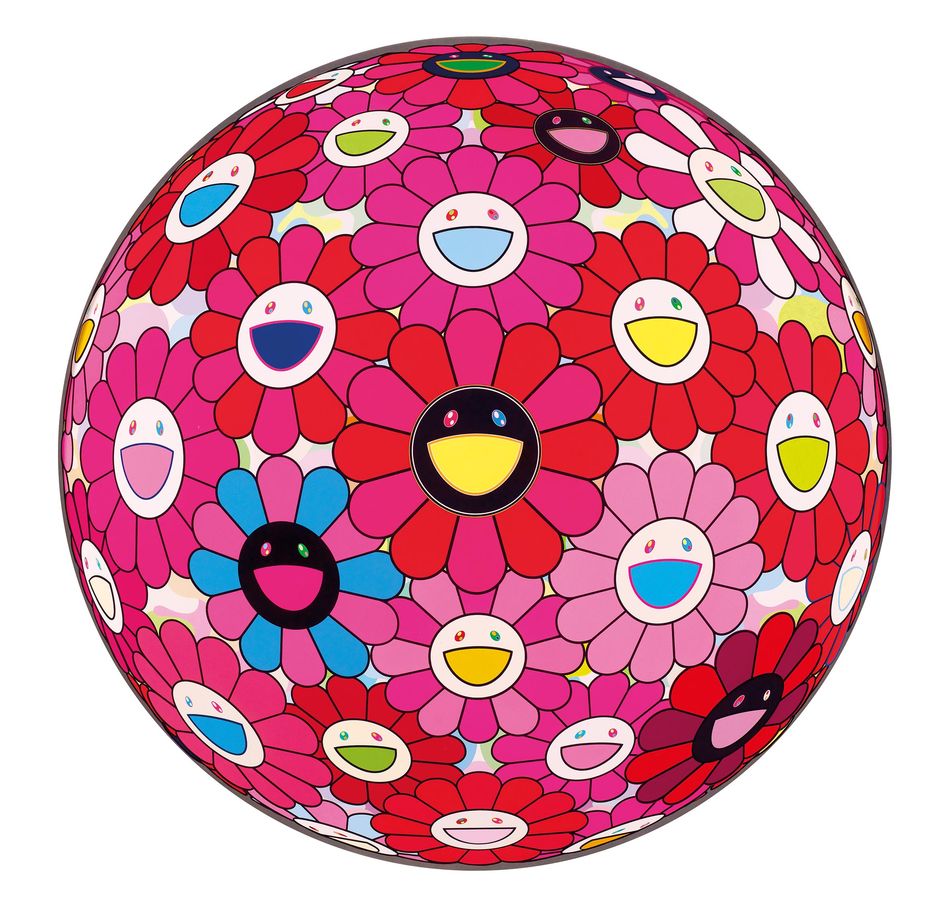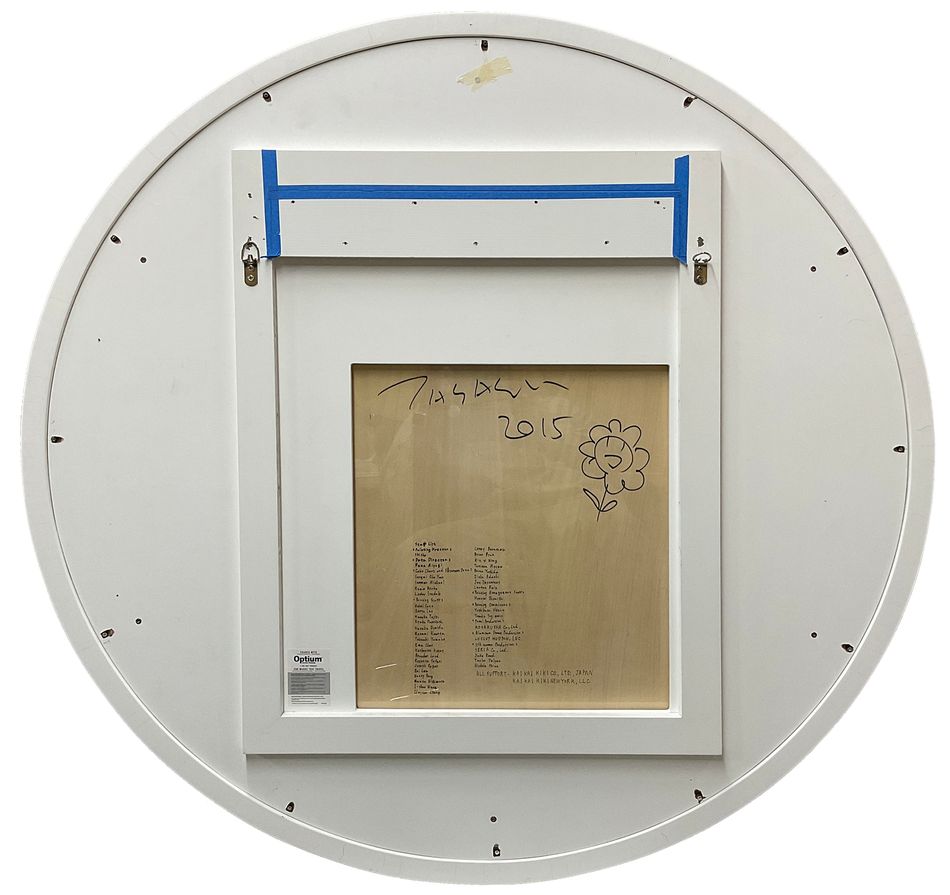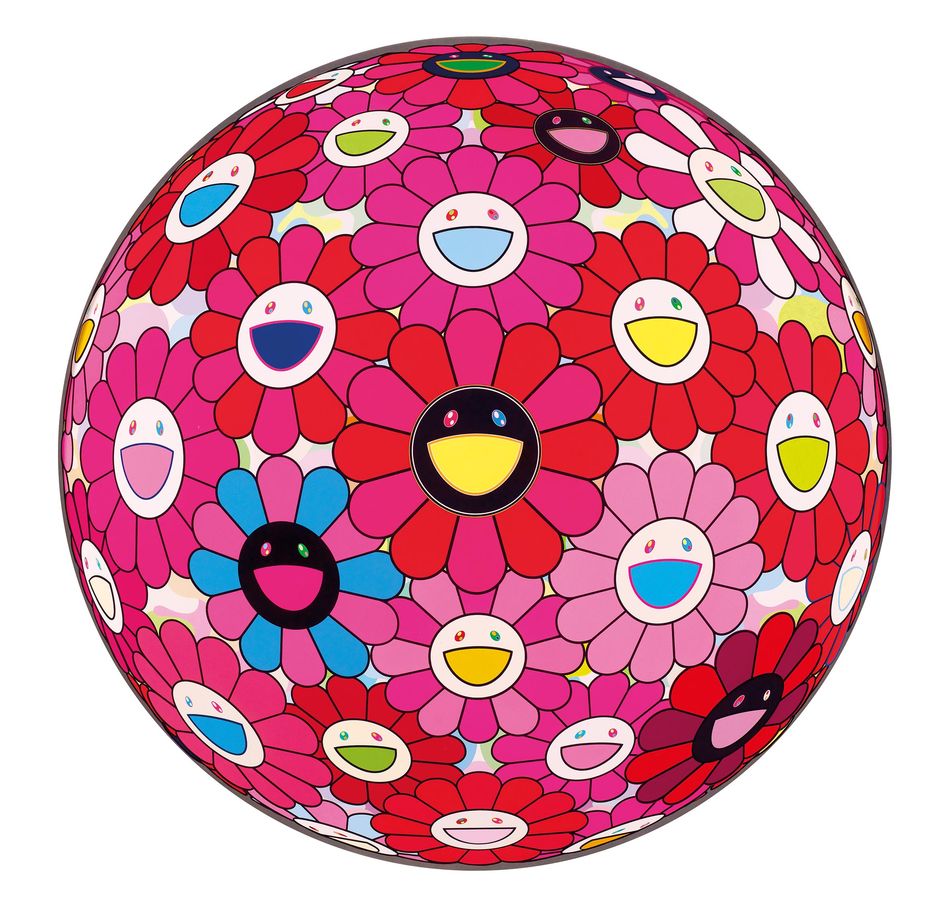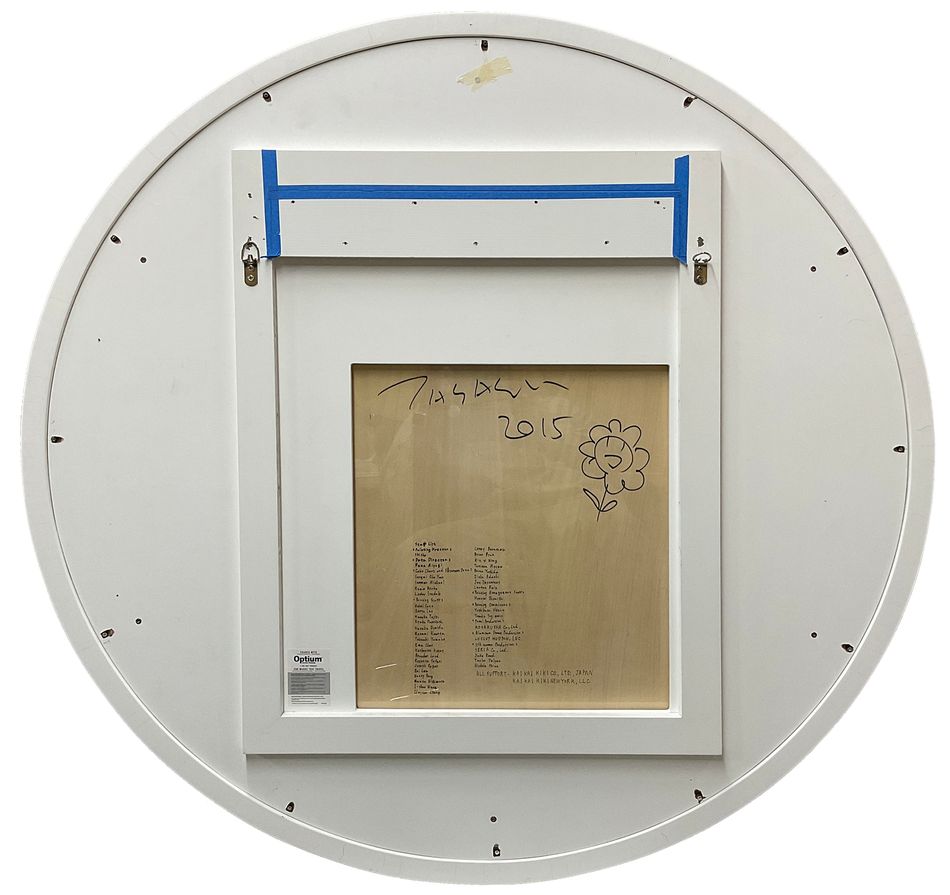 Estimate
TWD 9,500,000-15,000,000
HKD 2,582,000-4,076,000
USD 330,400-521,700
CNY 2,116,000-3,341,000
---
Signature
Signed reverse Takashi, dated 2015 and inscribed Staff List

PROVENANCE
KaiKai KiKi Co., LTD., Japan
KaiKai KiKi New York, LLC
Acquired from the above by the present owner
+ OVERVIEW
Although Takashi Murakami is turning 60 this year, he has managed to remain unique, eccentric, creative and prolific. Having freed himself from traditional Japanese creative modes, he pursues avant-garde approaches with great ambition. Disregarding social pressures, he is always energetic, curious, and willing to take risks. How was this controversial artist able to expose the public to his art and engage in people's everyday lives? For a long time, Murakami has nurtured strong strategies and a commercially-oriented approach. This resulted in him becoming a controversial figure in the Japanese art scene which emphasizes humbleness and restraint. However, after cultivating his art as well as frequently visiting Europe and the United States over a period of 20 to 30 years, Murakami holds a new ambition to elevate Japan's global visibility. With the goal of establishing a contemporary Kanō school, he has discovered the greatest extent of the commercial nature of art.

In early 2022, the Gagosian Gallery in New York announced that Murakami would hold a brand-new solo exhibition "An Arrow through History" in two spaces, No. 976 and No. 980, on Madison Avenue. The exhibition will include previously unseen paintings and sculptures of Murakami, including his representative Tondo (a circular work of art) featuring flowers and fish, with the fish on blue-and-white porcelains from the Yuan Dynasty of China as the pièce de résistance. This exhibition is the first time Murakami returns to the Gagosian Gallery since his solo exhibition back in 2014. The exhibition will begin on May 11. In the meantime, Murakami's NFT items "MURAKAMI.FLOWERS 2022" will be officially launched. There will also be the "CloneX" NFT series he collaborated on with RTFKT. In addition to the art scene, Murakami is also extremely active in the commercial scene. He often has crossovers between the two scenes. In 2003, Murakami announced his Kawaii manifesto, and a child-like Japanese cultural trend has thus entered the center of Western fashion. Right after concluding the Watches & Wonders high-end watch exhibition in Geneva, Murakami moved on to cooperate with Hublot and launched two NFT digital meta works.

Via his exhibition, Murakami proposed the concepts of Kawaii (Kawaii, 2003) and Little Boy (Little Boy, 2005). He proposed that: "The aesthetic experience of anime is unique. It will touch your inner child's heart, inspiring in you the wonderful memories of your childhood." This theory is based on his most famous "Superflat" manifesto he released using his work "Mr. DOB" in the second Queensland Asia Pacific Triennial in 1996. Later, in 2001, he curated and held the Superflat tour joint exhibition in several museums, which were substantially reported by the media. The New York Times praised him as a leader of the Neo-Pop art movement. The basic concept of Superflat may be derived from pop art. The artist's signature element, a smiling sunflower with eyes surrounded by rainbow petals, best represents the Superflat manifesto. After his long professional career, Murakami's sharp-toothed Mr. DOB image, sometimes shown with an evil-looking grin and other times appearing to be quite naive, has become Murakami's self-portrait.

Murakami's works are products that integrate Japanese contemporary pop manga art and traditional Japanese painting styles. Murakami delves into Japan art history, repackaging Japanese culture and translating it into a kind of art that the general public can understand, rather than the stereotypically intricate, complex, and mysterious Eastern-style painting language that is difficult to understand. Based on anime and manga styles, his works are essentially flat. His pieces are both like dolls and model toys, integrating cuteness, sexual fantasy, and extreme violence. Although there is a strong anime and manga influence, the pieces actually reflect the intricacies of Japanese culture. Through the power of cultural dissemination, he demonstrates Japan's ability to capture the public's attention.

Sunflowers hold a special power over Murakami; he is helplessly infatuated with them. According to Murakami, the language of the sunflower is silent love, admiration, loyalty, as well as optimism and bravery, peace, and hope. His work "Ohana no Bōru" (Flower Ball) uses a bright colorful tone, plants, flowers, and manga to showcase his concept of Superflat. The clustered sunflowers are painted on the surface of spheres, a two-dimensional space. The repetitive smiling flowers embed the whole piece with blooming smiles, surrendering to the clusters of red and pink. Pink is used repetitively, repeated over and over, to give the composition of the painting a nonsequential pattern. The seemingly standard smiley faces use a kawaii child-like expression to hide their true feelings. On the surface, these sunflowers seem happy. However, the meaning they convey differs in the eye of the beholders. Murakami once commented, "Each flower seems to have its individual emotions and personalities… I think they are both beautiful and disturbing. They also contain a certain power, the same power I feel when portraying human faces." People's performance under different states varies. However, Murakami doesn't present this hidden meaning directly, instead he provides his viewers with an opportunity for infinite imagination. That is why his sunflowers are so widely popular.

In "Ohana no Bōru," Murakami integrates Eastern tradition and Western culture, balancing high art and pop culture, and the result is both entertaining and aesthetically pleasing. The work employs the one-point perspective as well as the two-point perspective in Western arts to achieve a three-dimensional sense of space. On an apparently bulging sphere, he paints using the Ukiyo-e technique: traces of smooth lines, bright color, and two-dimensional space can be identified in his work. The visually infinite expansion haunts our perception. The transition from 2D to 3D exhibits a strong rhythm, dense and tidy layers of pattern, as well as elegant and intricate aestheticism. In the Superflat technique, on a monochromatic plane, he can inspire various innovations in Western modernism. His colorful works may seem simple and childish, but the spirit and content behind them are derived from Zen Buddhism. He uses kawaii or exaggerated images to represent Japanese culture and topics of the adult world. The sun is historically the symbol of Japan. In the context of contemporary art history, it also pays homage to Andy Warhol, a legend in pop art.

Select: Modern & Contemporary Art
Ravenel Spring Auction 2022
Saturday, June 4, 2022, 4:00pm